REVIEW: CH Products Flight Sim Yoke USB and Pro Pedals USB
By: Michael R. Stiteler, pilot, webmaster www.CharlestonArea.com

Date: January 17, 2004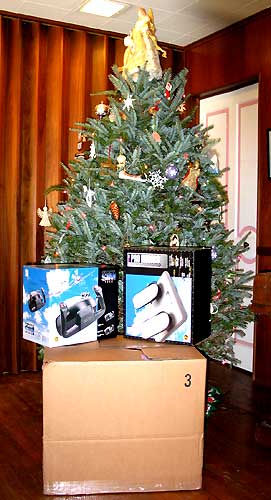 Merry Christmas! Look what appeared under my Christmas Tree this year. Its CH Products Flight Sim Yoke USB and CH Products Pro Pedals USB. Lets talk about each product, then Ill show you a couple of pictures of what you can do with this wonderful combination in Microsoft Flight Simulator 2004.
ABOUT THIS REVIEW
Ive been flying since 1981, mostly in small Cessna aircraft. Over the last couple of years I neglected renewing my currency due to an unusually heavy workload. A friend recently got his private license and was thinking about going for his instrument rating, so I thought I would use his enthusiasm as an excuse to get current again and maybe go for the new rating myself. I purchased the latest version of Microsoft Flight Simulator (2004, "A Century of Flight") and enjoyed many hours of flying with my old CH Products Virtual Pilot Pro, but with only 4-way hat switches, a hard center detent, and no rudder pedals, the experience lacked control and realism. I read all the reviews I could find on the net and liked what I read about the new CH Products Flight Sim Yoke and Pro Pedals USB, and I asked Mrs. Claus for the total package. Now that Ive put a few hours on the system, I thought Id share my experience with my fellow pilots and flight simmers out there.
BTW, I recommend you check www.Shopper.com for price comparisons. People are paying some of the highest prices on www.eBay.com!
We paid $100.36 for the yoke and $100.88 for the pedals on www.2buystore.com, plus $5.03 for 3-day shipping on UPS. By the way, I own and run www.CharlestonArea.com but am not affiliated in any way with CH Products, Microsoft, or any of the web sites mentioned in this review.
Click either box in the picture for a review of that product, or click on the links below.
Copyright: Mike Stiteler, 2004