REVIEW: CH Products Flight Sim Yoke USB and Pro Pedals USB
By: Michael R. Stiteler
Date: January 17, 2004
CH Products Pro Pedals USB Review
FIGURE 1. INSTALLATION for XP? Just plug it in!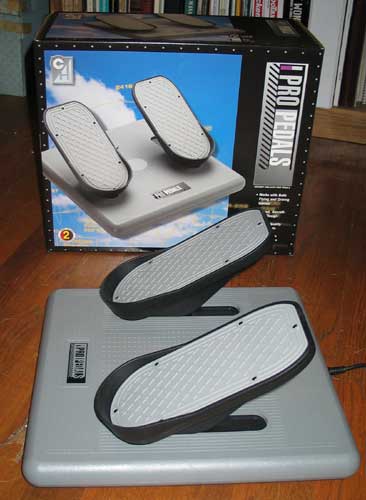 INSTALLATION: For Windows XP just plug the pedals into any USB port! Just like the CH Products Flight Sim Yoke, the box included the product (pedals), a concise installation guide, and a CD. The CD was a bit outdated, but all the latest software is available for download from the CH Products website (www.chproducts.com). It included CH Products' Control Manager software 2.1 (the current version on their website is 3.x) and Direct-X 8.1 (current version at the time of this writing was 9.0b). There were drivers for all CH Products devices and several input device utilities. The CD also included a link back to CH Product's for tech support and several demonstration programs, including 4 x 4 Evolution, Delta Force Land Warrior, F-16/MiG-29, and On Top (IFR Flight Simulator).
FIGURE 2: CH PRODUCTS PRO PEDALS: TOP VIEW WITH METRICS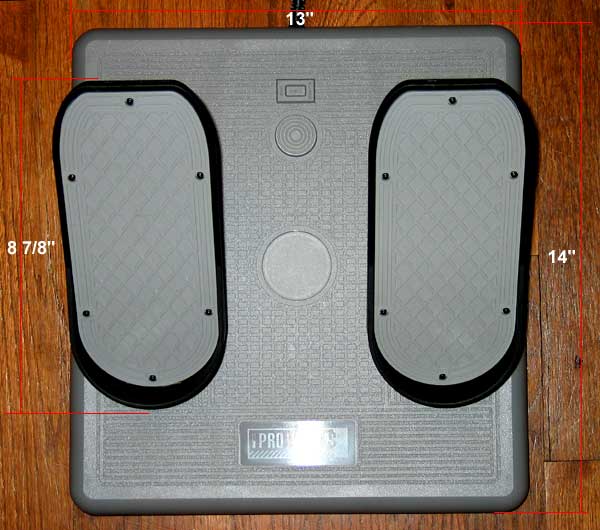 The pedals measure 13 inches wide by 14 inches deep, but you will need another inch or so behind the pedals for clearance for the chord, which exits out the back (see under the 13" label in the photo above). The pedals themselves are 8 7/8 inches long. I know it looks like I measured the pedal length at an angle, but I promise they are 8 7/8 inches under your feet. They also have a nice 7/8 inch lip at the bottom that keeps your feet from sliding down off the pedals (see other photos).
FIGURE 3: CH PRODUCTS PRO PEDALS: SIDE VIEW WITH METRICS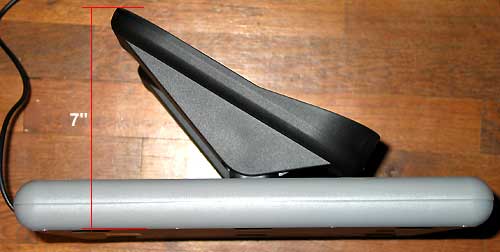 The tops of the pedals are 7 inches in height as measured from the floor.
FIGURE 4: CH PRODUCTS PRO PEDALS: BOTTOM VIEW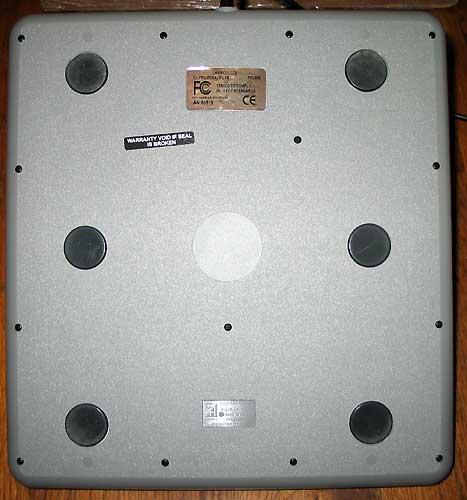 The bottom of the unit has six rubber pads that help hold it firmly to the floor, even with just the weight of your feet on the pedals. If you have a very slick floor you will need to arrange some system for holding the pedals in place. One way is to mount them to a piece of plywood that fits under your chair. I'm sure there are hundreds of ways of doing this.
FIGURE 5: CH PRODUCTS PRO PEDALS: CHOCK SYSTEM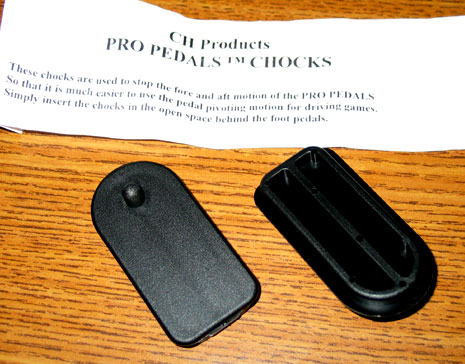 For flight simulators, the pedals have differential sliding action. This is how most rudder pedals move in real airplanes. The range of motion is about 2 1/2 inches fore and aft. The pedals also pivot about 15 degrees forward when you press with your toes. This simulates "toe brakes", also common on small planes. You can press both toe brakes at once to stop straight ahead, or you can use them independently (differential braking), which lets you turn airplanes with a castoring nose or tail wheel on a dime. But what about car, truck, or other driving simulators? CH has solved that problem by including Pro Pedals "Chocks", which lock the pedals in place. This way you can use the pivoting action for gas and brakes on your car, monster truck, or other land-based vehicle.
FIGURE 6: CH PRODUCTS PRO PEDALS: CHOCKS IN PLACE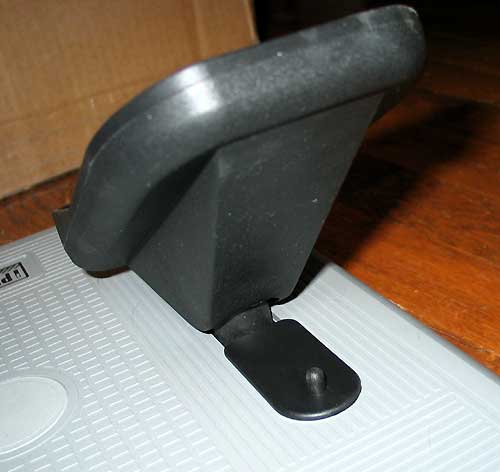 The chocks just drop in place in front of each pedal. This works well, but I would have liked a system that was actually part of the pedal assembly, like a lever you could move to lock the pedals in place. Evidently there used to be something like that on the original pedal design, as there is still a "Car/Plane" switch area embossed in the pedal base plate, only there is no switch installed. You can see this little rectangle in Figures 2 and 10, at the top of the base plate (click to go to Figure 2).
FIGURE 8: CH PRODUCTS PRO PEDALS: PEDAL SLIDE CLOSE-UP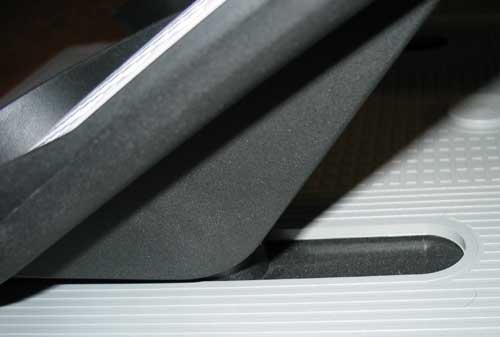 This is a close up side view that shows the slide. The hole for the slide is about 2 1/2 inches long. The hole has a black plate covering it, as you can see in the picture. However, "stuff" could definitely fall inside this hole when you move the pedals, as the plate slides and is not long enough to keep the hole covered. The hole opens up to about 1 1/2 inches at full pedal deflection. This should really be sealed up.
FIGURE 9: CH PRODUCTS PRO PEDALS: PEDAL SURFACE CLOSE-UP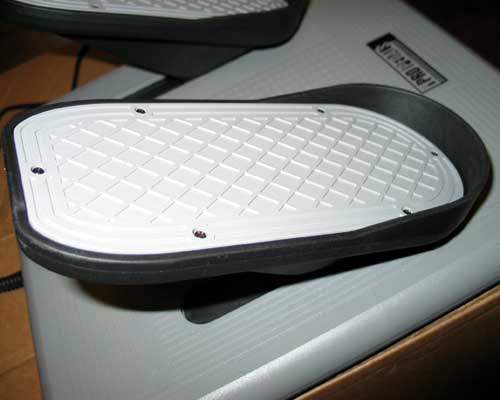 You get a good view of the lip on the pedal in this detail photo. Also, the pedals have a nicely textured surface that helps keep your feet in place.
FIGURE 10: CH PRODUCTS PRO PEDALS: PEDAL SLIDE FULLY DEFLECTED
FIGURE 11: CH PRODUCTS PRO PEDALS PERSPECTIVE VIEW: NICE PEDALS!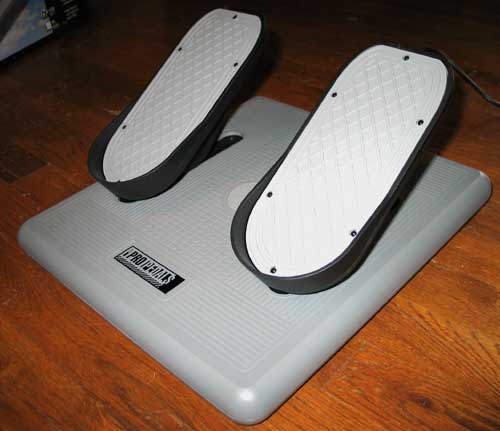 PERFORMANCE: Flight Simulator recognized that I had both pedals and the yoke installed when it started up. I selected a Cessna 172 at JZI (pilot talk for Charleston Executive Airport on John's Island, SC) and gave the system a try. My immediate thought was "Man! These pedal springs are light!" I took off my shoes to give me a better feel to start off with. My other thought was that the toe brakes are also very light, and they have more travel than I am used to on a real plane, a compromise of being able to use these pedals for driving as well.
Teething Pains. I managed a reasonable roll down the runway, using the pedals effectively (I thought) for rudder control. But once I was in the air, the rudders were no longer effective. Back on the ground the differential brakes didn't seem to be working correctly. Even with my feet off the pedals, the differential brakes were constantly coming on. THEN...I tried several times to set the sensitivities within Flight Simulator, hoping I could set a null zone to keep the pedals from being applied when I wasn't pressing the toe brakes, but each time I tried this the system seemed to reset the settings to the defaults. It turns out that I had forgotten to disable the auto-rudder feature of Flight Simulator. The rudders are effective on the ground even with auto-rudder turned on, but differential braking is affected when you turn the yoke. Auto-rudder activated the differential brakes every time I turned the yoke side to side, which made me think the pedals were not properly set.
Learning Curve. It took a few hours for my feet to remember how airplanes turn. To turn left, you step on the left pedal, and you step on the right pedal for a right turn, naturally. Maybe so, but we had a few trips off the runway before I could convince my dogs to cooperate.
OVERALL IMPRESSION: Ultimately the pedals worked great. The sliding action is very realistic, and they enable me to perform all sorts of maneuvers that just can't be done without them, like a full power takeoff in an Extra 300 aerobatic aircraft (so much power that without rudder controls the torque pulls you off the side of the runway!). I was also able to do full slips on landing, crosswind corrections, even vertical tail slides for almost 100 feet. Click below for a few photos of these great rudder pedals in action.
Click here for to see these great products in action flying Flight Simulator 2004
Click here for CH Products Flight Sim Yoke USB Review
Copyright: Mike Stiteler, 2004